COURT DIMENSIONS
Tennis Court Dimensions
The dimensions of tennis courts are defined by the International Tennis Federation's Rules of Tennis. Minimum playing area requirements for a single court for club or recreation use are as follows (diagrams courtesy of Tennis Australia):
As a guide, the suggested recommended minimum dimensions for tennis courts are: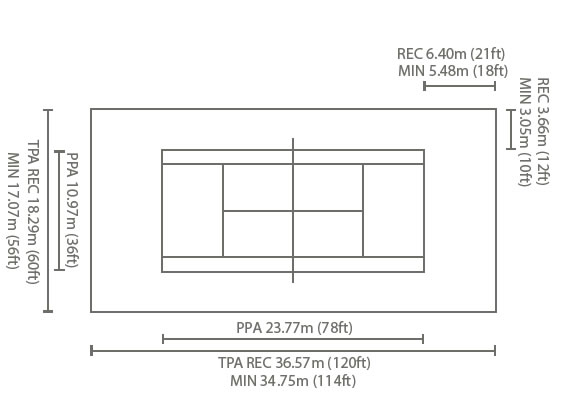 The above diagrams are courtesy of Tennis Australia Court and Enclosure Dimensions 2012
The Sports Contractors Association (formerly known as the Tennis Court & Sportsfield Builders Association) has published a document entitled "Tennis Court Construction Guide Specifications" covering all areas of tennis court construction. To view the document, visit www.sportscontractors.com.au and click on "Technical Specs" in the left hand margin.
The Sports Contractors Association also co-operated with Tennis Queensland in the compilation of their comprehensive manual on tennis court construction – click here to view their Technical Manual.
Hot Shots Tennis
From 1st January 2012 the Rules of Tennis as defined by the ITF changed and it is now mandatory for competition for players aged 10-and-under to be played with slower balls on smaller sized courts. The traditional yellow ball will no longer be permitted for 10-and-under competition. Tennis Australia has endorsed the ITF's Tennis 10s rule change via the MLC Tennis Hot Shots program, which is fun, social and active and designed to keep kids interested in the game. The courts and racquets are smaller, the balls don't bounce as high so they're easier to hit and kids love it. Children progress through three stages – Red, Orange and Green – as their ability improves.
Court dimensions for hot shots tennis are available on the Hot Shots website.